My Gym Partner's a Monkey
is an American
animated television series
created by Timothy and Julie McNally Cahill and produced by
Cartoon Network Studios
. It premiered on December 26, 2005 and ended in July 27, 2008 following a marathon of its final regular-run episodes. On November 27th, 2008, A Thanksgiving special aired during the season, technically making this the series finale.
Broadcast History
Edit
My Gym Partner's a Monkey first aired on Cartoon Network on December 26th, 2005. As a whole, the show was given 96 Episodes, a full-length film and an hour long special. The series ended on it's down terms after four seasons, on July 27th, 2008. Despite the episode airing that day, being passed off as the series finale, due to the in-universe plot, Cartoon Network mixed with the order of episodes, and managed to hold on to the intended second to last episode, and not premiere it until November 27th, 2008, long after the series initially ended. Their reasons for doing so was most likely because this episode was a Thanksgiving themed holiday special and they wanted to air it, when it was around that time of year in real life.
During the third season of it's initial run, My Gym Partner's a Monkey became part of a crossover event, on May 18th, 2007, called Cartoon Network Invaded. The programming block featured episode premieres of five Cartoon Network shows. These being Foster's Home for Imaginary Friends, Ed, Edd, & Eddy, My Gym Partner's a Monkey, Camp Lazlo, and The Grim Adventures of Billy and Mandy (each show would air their new episode in that order). All five episodes would be "alien-themed" and would be loosely tied together, to many one, overarching story. The episode from My Gym Partner's a Monkey was "That Darn Platypus".
4 years after My Gym Partner's a Monkey ended, Cartoon Network revived the show, by airing a few repeats as part of Cartoon Planet. Cartoon Planet was a weekly, hour-long programming block, that showcased a list of classic cartoons that have been either cancelled or finished, many years back. This lasted from March 30th, 2012, to February 8th, 2014.
The story revolves around Adam Lyon, a human. After a clerical error listed his surname as "Lion", Adam is forced to transfer from Chester Arthur Middle School to Charles Darwin Middle School, a school for local zoo animals. Shortly after his transfer, he is partnered with Jake Spidermonkey in gym (hence the title). While Jake enjoys having fun at the expense of others, he quickly becomes attached to Adam. The majority of the show's humor derives from Adam's attempts to reconcile his human limitations, as well as his outsider status, with the demands of an animal-centric school and social scene. Sometimes around the last two seasons, the show stopped focusing on Adam's all-animal school dilemma and more on the other characters and their lives outside of school.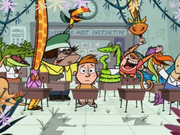 Much of Charles Darwin Middle School is modeled after specific habitats. There are fish tubes created so that the fish can breathe and swim around. There are also vines and bodies of water. Some animals like Bull Sharkowski use devices to allow them to live outside of their natural habitat. In Bull's case he uses what looks like headphones full of water that go around his gills. The main characters have been able to breathe in water in the early episodes for some mysterious reason.
Charles Darwin Middle School appears to be the only animal school around, as it is later explained in the episode "Uniformity." In the episode, there are high end east coast schools for animals. Also, there is a school for plants called Creeping Broad-Leaf Sedge Middle School (CBLSMS) where Jake is sent to due to Warthog thinking he's a spider plant. The school competes against human schools in athletics and other events. In one episode where Adam signs up to return to his old school for a day transfer, all the teachers and staff seem to replicate their animal counterparts.
Characters
Edit
Main Cast
Edit
Major Characters
Edit
Recurring Characters
Edit
See List of Episodes
My Gym Partner's a Monkey was originally titled "The Zoo". The rest of the show was pretty much the same, with the show still having the same basic concept as the current show, as well as the same cast of characters, just with a few noticable changes to their physical appearances.
During it's run, two episodes have been banned. The first was "Amazon Kevin", which was banned only in Australian broadcasting networks, due to the episode focusing on a parody of Steve Irwin, once the real life Steve Irwin died. The second episode was "The Butt of the Jake", which after it's second airing, was noticed by Cartoon Network executives, saying that the episode was too crude and disgusting and jokes about Jake's butt went too far. After which, the episode was pulled from syndication and the alternative episode, "Hygiene Hijinks" was paired up with the episode's former sister episode "Shark Fin Soupy".
International Broadcast
Edit
Two DVD volumes of the series have been released in Australia, the first on April 4, 2007 and the second on January 23, 2008. As of January 2010, there have been no further volumes released.