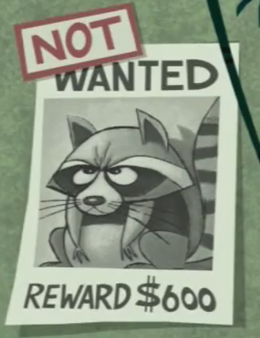 Larry Raccoon
is the only student to be expelled from
Charles Darwin Middle School
. He appeared in "
Bad News Bear
". He is voiced by
Phil LaMarr
who did the voiceover of Bull Sharkowski.
Biography
Edit
Larry apparently has a criminalized reputation to being the only student to be expelled from CDMS. Since then, he has been used by Principal Pixiefrog as an example to what a delinquent is. Larry Raccoon started a sneaky plot by being a master of disguise himself as Dingbang Panda so that Principal Pixiefrog wouldn't notice the difference and made everyone in the whole school blame Adam Lyon when he's protecting him when he's endangered of anything as he moves along with him. While masquerading as Dingbang, Larry acted like a total jerk to everyone - stealing other people's food, stealing treats from Mr. Hornbill, and being incredibly obnoxious.
His cover was been blown when Jake Spidermonkey scared a puffer fish and it grew so large that it broke the fish tube making the whole gym flooded with water and splattered on him. Once his face is revealed to everybody, he said that he wanted to get an education in CDMS but instead of that. Principal Pixiefrog pointed out that he had his chance, but he wanted to be a delinquent instead. He was then hit with a dodge ball by Adam, as revenge for all the pain he put him through, and was then last seen being chased by all the students (including Adam's friends Ingrid and Lupe) he wronged, getting his painful comeuppance.
He will not dare sneak back into CDMS the third time or exact vengefulness against the one human student: Adam Lyon.
It is unknown what exactly he did to get himself expelled. Although, judging by his antics as Dingbang, he apparently caused so much havoc and trouble for everyone that he completely pushed Pixiefrog to kick him out.
Despite his expulsion, he was seen as a student in the background, in the episodes "Amazon Kevin" and "Pride and Pixiefrog".